The Gallery section is now going to be updated much more frequently, hopefully with several new pictures each week. I've converted it to just now be a feed of the SPAS 12 Project Instagram feed (@spas12project), which will allow me to update the gallery from my phone and also allow you guys who don't really care to mess around with Instagram to still enjoy all the pictures that get posted and submitted!
The Formidable SPAS 12 Shotgun
Found a great article about the SPAS 12 written by Mr. Art Blatt back in 1983! He does a great job illustrating both the guns positives and negatives, while giving a fair review. I thought it was pretty interesting that (according to this article) it was FIE who suggested to Franchi they develop a better sling mount. If only they'd stuck with the metal swivel drums they used on their prototypes... Can't say they didn't have style in the 80's!
The SPAS 12's of Jurassic Park
In excitement for the release of Jurassic World I've been watching a lot of the original movies lately, which has got me on a bit of a movie prop kick. In visiting great websites all over the Internet regarding the "screen accuracy" of everything from Jeeps, to costumes, and other props, but I noticed there didn't seem to be anything regarding the variations of the SPAS 12's used in the film. So I took a Blu Ray copy and stepped it through frame by frame whenever a SPAS 12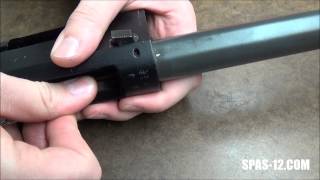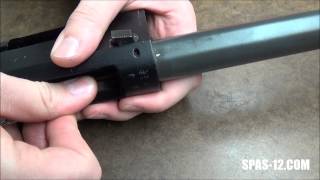 How-To: Install the Combat Bolt Release
Seeing the oversized/Combat Bolt Releases popping up on Gunbroker and eBay but not sure you can handle the install? It's not that bad! Just requires a few simple dental tools available at your local hardware store and about 10 minutes of your time! I'll get deeper into the use of it and why it's more beneficial in another video when the whether warms up. My backstop needs rebuilt and the ground is too frozen to work on it, but I definitely want to get more shooting video